S K Sinha, New Delhi: India's cultural diversity is unified by the thread of the Truth. All communities and religions practice their own unique way to realize the Truth. And India is the only country in the world which has provided spiritual freedom since dawn of civilization, and this freedom and coexistence makes India Mother of Democracy. But Politics of Mahagatbandhan of present day is against the ethos of freedom and coexistence. Politics of Mahagatbandhan is antithesis to concept of India.
Ills of Mahagatbandhan
Political parties involved in making Mahagatbandhan, at present like in Bihar and Maha Vikas Agahdi of Maharashtra. These political parties are not connected through their spirit. Their thinking and actions move according to the interest of vote banks and communities. These parties, all together don't act for one single truth i.e. welfare of India.
---
Antithesis of the India
Bihar is latest example of antithesis to the concept of India. Congress, RJD, JD(U) and left parties have formed alliance to keep BJP away from the government. So, all parties are investing their energies not in building or developing Bihar but in preventing BJP and PM Modi. Mahagatbandhan is a negative phenomenon, it does not work to channelize energies of the society for development and excellence .
---
Also Read: Innovative Learning and Industry Exposure: Best BCA Colleges for Real-World Skills
Why Mahagatbandhan appeals
Though, Mahagatbandhan appeals everybody because it increases the chance of winning election but it fails to provide atmosphere of coexistence and freedom for all. As and when it comes to power, it revives the policy of appeasement of one community against another or one caste against another caste. In the long run, rule of Mahagatbandhan creates various ills at every level of governance and society.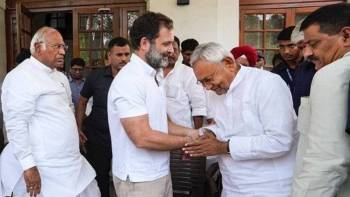 Worst Statecraft
Mahagatbandhan is worst kind of statecraft, it is better for India not to choose government of Mahagatbandhan.